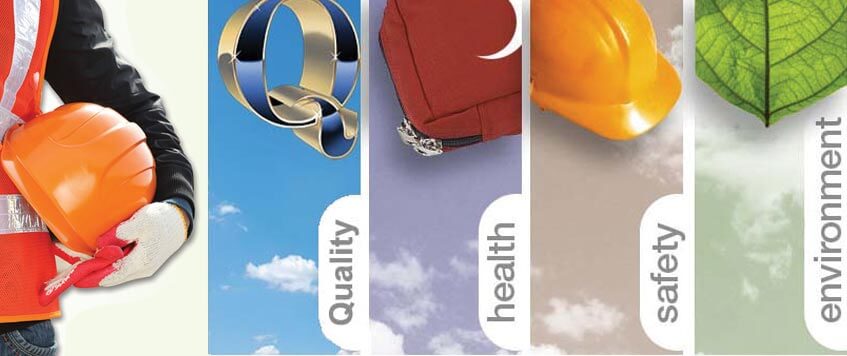 Quality
It is the fundamental principle of ABN SCAFFOLDS LLC to ensure that all operations are planned, controlled and executed with quality as a priority and that all records are clearly and accurately documented.
It is the policy of ABN SCAFFOLDS LLC to maintain a quality system designed to meet the requirements of ISO 9001:2015 in pursuit of its primary objectives, the purpose and the context of the organization.
Occupational Health, Safety & Environment
Health and safety is especially important in the scaffolding industry with many scaffolders working at heights and in difficult conditions. Working at height carries the greatest element of risk; therefore safety is critical to our business. Our Health and Safety policies focus on continual development of awareness and competence among our employees. It is the policy of ABN SCAFFOLDS LLC and committed to maintain OHS&E Management system designed to meet the requirements of ISO 45001:2018 & ISO 14001:2015.
At ABN SCAFFOLDS LLC, the safety of our scaffolding team, customers, and the general public is our number one priority. As such, we have implemented a strict Occupational Health and Safety (OH&S) policy, which ensures a safe and efficient working environment and that all our employees are fully trained in all relevant health and safety regulations.
In support of our Occupational Health & Safety policy, all staff members are taught to manage their own safety and that of their colleagues to promote an injury free environment. We abide by all regulations in force wherever we work, and endeavor to maintain and improve safety and health standards above and beyond these requirements.
Our Scaffolders are fully trained as per the UAE local regulation requirements (TRAKHEES-EHS, DM, ADM, etc.) form TUV-SUD and card holders will adhere to NASC- TG20.13 & SG4:15 safety guidelines ensuring the highest level of service, with safe working practice in place.
One of the key objectives of ABN SCAFFOLDS LLC is to run our operations avoiding unnecessary or unacceptable effects on the environment & sustainability. Any effects will be minimized as far as practicable. Environmental & Sustainable considerations will be given equal importance to all our operations.
Important Links
  Policies        Certifications        Competency Trainings        Recognition Awards        Sustainable Initiatives